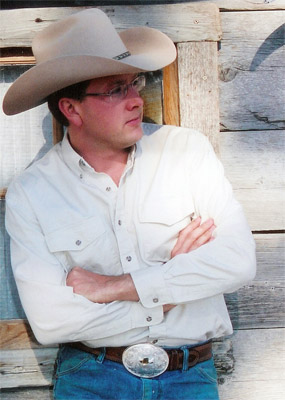 "One of the most alluring qualities of the Montana artist's paintings is his depiction of the symbiotic relationship between horses and humans." "In the world of western art, Owen's paintings are surprisingly dark and make rich of contrasts between light and dark."
-Southwest Art - July, 2011
"I absolutely love doing this, creating paintings that fire the imagination and enrich one's sense of life. That is the big reward."
-Chris Owen
Chris Owen Biographical Information
Chris' paintings are a contemporary portrayal of the spirit and essence of the American cowboy. After majoring in art at Montana State University-Billings, he later attended the highly acclaimed Art Center College of Design in Los Angeles.
Becoming a professional artist has been a lifetime pursuit of Chris', and he has been painting his Western subjects for nearly 20 years. Transitioning from the conventional western themes, his work demonstrates a keen sensitivity to the application of light and shadow to create the illusion of three-dimensional form.
His "action painting" also captures and depicts the gesture, mood and energy of the horse and cowboy figures by arbitrarily and instinctively combining realism and abstraction. He depicts the embodiment of the human and equine figures with a genuinely personal and expressionistic approach. With an ability to emulate a perception of character in his subjects, his style is undeniably subjective; and through his art he bears the hopes, dreams, and passions, not only for himself, but all who desire to experience the spirit of the American West.
Awards & Honors
Founding Member of Russell Skull Society of Artists
In the permanent collection of the Pearce Western Art Collection, Corsicana, TX
Coors Western Art Show, featured artist 2003, the painting was selected for the permanent collection.
Cheyenne Old West Museum Purchase Award in the permanent collection
In 2006, Litho-Krome Company of Columbus, GA, won the Benjamin Franklin Award, "THE BENNY", which is the highly coveted and most prestigious international printing award for the giclee printing of "A Cowboy's Morning" by Chris Owen. In the world of print, this award, coincidentally a small statuette of Benjamin Franklin and is regarded as the equivalent of the Academy Awards Oscar. The competition was held in Chicago, IL.
Western Art Shows
C.M. Russell Art Auction in Great Falls, MT
Coors Western Art Show in Denver, CO
Cheyenne Frontier Days Governor's Invitational Western Art Show in Cheyenne, WY
Western Visions at The National Wildlife Museum in Jackson, WY
Mountain Oyster in Tucson, AZ
"Rising Stars 2001" Desert Caballeros Western Museum in Wickenburg, AZ